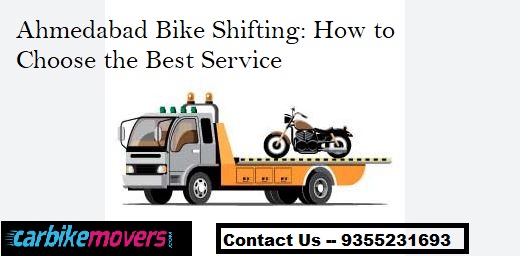 Moving to a new city can be both exciting and overwhelming, and one of the biggest concerns for many people is how to transport their belongings. If you're a bike owner in Ahmedabad, you might be wondering how to choose the best bike shifting service. With so many options available, it can be difficult to know where to start. In this blog, we'll go over some tips to help you choose the best bike shifting service in Ahmedabad.
Check for Experience and Reputation
Experience and reputation matter a lot when it comes to bike shifting services. A well-established company with years of experience will have better knowledge and expertise to handle your bike with care. Check their online reviews, ratings, and feedback to know about their reputation. A reputed company will always prioritize customer satisfaction, and you can be sure of their quality of service.
Verify their License and Insurance
Make sure that the bike shifting company is licensed and insured. A licensed company will follow all the necessary regulations and guidelines for the safe transportation of your bike. Insurance coverage will protect your bike from any damages that may occur during the shifting process.
Look for Transparent Pricing
Bike shifting service providers in Ahmedabad offer different pricing options. Choose a company that offers transparent pricing and provides a detailed breakdown of all the costs involved. Make sure there are no hidden charges, and the company provides an accurate estimate of the overall cost.
Inquire about their Shifting Process
Every company follows a different shifting process. Ask the company about their shifting process and make sure it aligns with your requirements. Inquire about the packaging, loading, and unloading process. Make sure that the company has proper equipment and tools to handle the shifting process.
Customer Support and Assistance
Choose a company that offers good customer support and assistance. A reliable company will provide regular updates on the status of your bike and respond to your queries promptly. Make sure they have a dedicated customer service team to handle any issues or concerns.
Ask for Referrals and Recommendations
One of the best ways to choose a reliable bike shifting service in Ahmedabad is by asking for referrals and recommendations from your friends, colleagues, or family members who have recently relocated. They can provide valuable insights into their experiences with the bike shifting service they used, which can help you make an informed decision.
Compare Multiple Bike Shifting Services
Don't settle for the first bike shifting service you come across. Instead, compare the services offered by multiple providers to find the best fit for your requirements. Compare their pricing, experience, reputation, and shifting process to make an informed decision.
Check for Additional Services
Many bike shifting service providers in Ahmedabad offer additional services, such as storage facilities, insurance coverage, and tracking services. Consider choosing a company that offers additional services that align with your requirements.
Schedule the Shifting Process in Advance
Avoid last-minute bike shifting arrangements as they can be stressful and expensive. Instead, schedule the shifting process in advance, and book the service provider as early as possible. This will ensure that you have ample time to prepare for the shifting process and avoid any last-minute hassles.
Read the Terms and Conditions Carefully
Before booking a bike shifting service in Ahmedabad, make sure you read the terms and conditions carefully. This will help you understand the company's policies and procedures and avoid any misunderstandings or disputes later on.
Consider the Distance and Location
The distance and location of your new residence can also affect your choice of bike shifting service. Choose a company that operates in both your current location and your new destination to ensure a smooth shifting process. Also, consider the distance between the two locations and the time it will take to transport your bike.
Check the Packaging Materials Used
The packaging materials used by the bike shifting service provider can also impact the safety of your bike during transportation. Ask about the packaging materials used and make sure they are of good quality and provide adequate protection for your bike. Also, inquire about any additional safety measures taken during the loading and unloading process.
Choose a Service Provider with a Dedicated Team
A dedicated team can ensure the smooth and efficient transportation of your bike. Choose a service provider that has a dedicated team of professionals who specialize in bike shifting. They should have the necessary expertise and experience to handle the shifting process with care.
Consider the Cost-effectiveness
While choosing a reliable and efficient bike shifting service is important, you should also consider the cost-effectiveness of the service. Compare the pricing of multiple service providers and choose a company that offers a good balance between quality of service and affordability.
Ensure Timely Delivery
Timely delivery is crucial when it comes to bike shifting. Choose a service provider that guarantees timely delivery and has a good track record of delivering bikes on time. Make sure to confirm the estimated delivery time and ensure that it aligns with your schedule.
Conclusion
Choosing the best bike shifting service in Ahmedabad requires careful consideration and research. Keep the distance, location, packaging materials, dedicated team, cost-effectiveness, and timely delivery in mind while making your choice. With these tips, you can choose a reliable and efficient bike shifting service that ensures the safe and secure transportation of your bike.