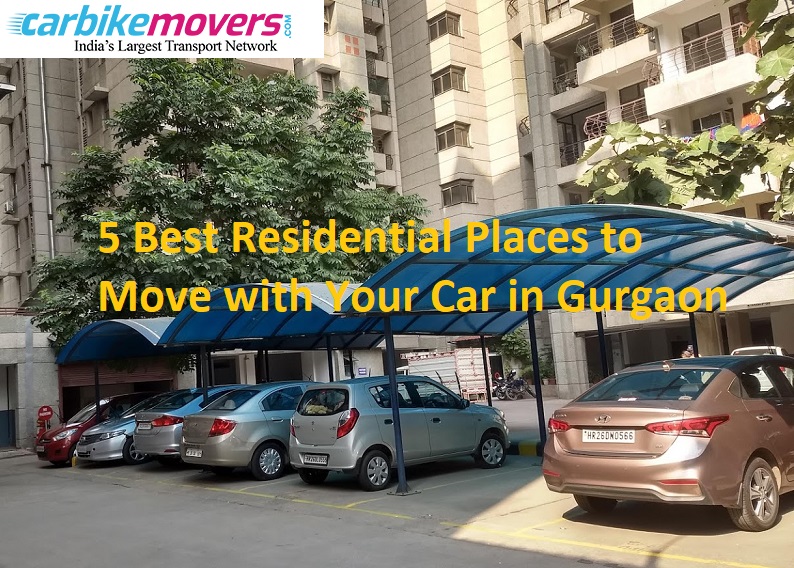 Gurgaon is a "developing and Millennium city" bordering Delhi within Haryana. Due to the development of an IT cluster and prestigious universities, Gurgaon is a well-kept city that is expanding quickly. Because it is a relatively reasonable location where you can receive the best accommodations within your projected budget, Gurgaon has become a popular city to relocate to.
You'll be shocked to learn that real estate is one of the main factors boosting Gurgaon's revenue significantly. The city has innumerable real estate enterprises, which greatly benefit the economy and help it rank 3rd in India for GDP per capita.
Car Transport in Gurgaon is affordable with reliable Car Transport Services Gurgaon.
Gurgaon's economic expansion offers job searchers a variety of fresh and well-suited chances to help them land their ideal positions. In Gurgaon, there are numerous industries in every field wherein people look for suitable employment from all over India and outside.
Along with its advantages for business, Gurgaon also cares for nature and its vegetation. It is recognized as the headquarters of numerous large corporations, including Coca-Cola, Pepsi, BMW, Hyundai, and many others.
Hotels, shopping centers, the neighbourhood market, temples, parks for relaxation, and other fascinating and adventurous activities are all available in Gurgaon. It will allow you to maintain your lifestyle and traditions regardless of where you are from.
Top 5 residential areas of Gurgaon to move
Sector 49, Sohana road
Residential apartments in Sector 49 are well-known for being luxuriously furnished. The Gurgaon region's largest residential units are located in this neighbourhood. This expansive housing complex spans 37 acres and is well connected to all forms of transportation, making it easy to get from one location to another fast. Sector 49 is the ideal place to live because it is home to several prestigious institutions and IT clusters.
Essential requirements
Schools: Basant Valley Global School, Pallavan School, The Play House, DAV Public School, etc.
Organizations: Oodles Technologies Private Limited, Starling Softwares, Infinite IT Solutions, Capgemini IT India Pvt. Ltd., etc.
Attractive places: Lohagarh Farms, ISKCON Gurgaon, Sai Dham Temple and other picturesque locations.
Sector 82
In Sector 82, regarded as the best residential district, you can easily discover a wide variety of well-maintained residential structures ranging from low rise to high price.
Over 1400 apartments, numerous IT firms, top educational institutions, and colleges have all been constructed in this region, making it possible for you to complete your everyday needs without traveling far. To move locally or outside of Gurgaon, you may also obtain the best and most economical transportation service available around the clock.
Essential requirements:
Schools: Delhi Public School, Yaduvanshi International School, Melora Playschool & Daycare, and Foster Kids Gurgaon.
Companies: DigiSavy, DiracERP Solutions.
Well-known locations: Visit the Sultanpur National Park, Mohan Ram Temple, Mansa Devi Temple, among other well-known locations.
Sector 23
One of Gurgaon's older and more developed neighbourhoods is Sector 23, where you may rent or buy a home for a price that is relatively reasonable when compared to Gurgaon's more recent neighbourhoods.
Because of the best business centres and numerous other facilities required for safe housing, Sector 23 has emerged as one of the most renowned residential areas. You may easily rent a tiny, fully furnished apartment for 4,000–5,000 Indian rupees.
Essential requirements
Schools: GigglesNWiggles, The Maurya School, Swiss Cottage School, Gemstar Kidz, etc.
Companies: Sofgen Computer Consultants (P) Ltd., IAP Company Private Limited, XOVEX, etc.
Best places to visit: The Hidden Hour, Shri Shakti Temple, etc.
MG Road
One of the nicest residential areas, MG Road, is full of well-designed residences, malls, hospitals, restaurants, and other amenities. People are becoming more interested in relocating here because of these amenities for daily life. With metro connectivity, you may swiftly commute to any other location in Gurgaon and receive the greatest transit services.
Essential requirements
Schools: Narayana e Techno School, Sherwood Convent School, S. B. Public School, etc.
Companies: Vital Wires Consulting Pvt. Ltd., Big Bird, Johnson Controls PLC, etc.
Famous places: Aravali Biodiversity Park, Museum of Folk and Tribal Art, Sanskriti Museums, etc.
Hasanpur
Hasanpur, one of Gurgaon's most popular suburbs, is also located 26.9 kilometers from the IGI Airport. The residential area is next to NH8, also called the Expressway, making it easily accessible from south Delhi. Hasanpur has had significant growth in relocating over the last few years due to the area's top businesses, schools, and reliable transportation options, which all contribute to people living happy lives.
Essential requirements
Schools: Alpine Convent School, Shalom Hills International School, Ajanta Public School, Salwan Public School, etc.
Companies: Tata Consultancy Services Ltd, Infosys Limited, Aricent, Cognizant, etc.
Attractive places: Gurudwara Bangla Sahib, Mughal Garden, Lodhi Garden, etc.
Conclusion
It is well known that finding a nice and affordable residential area within Gurgaon can be difficult. It's a result of the population expanding daily, which also causes a rapid rise in property costs. Affordable Car Carrier in Gurgaon with reliable Car Shifting in Gurgaon will help you with your vehicle transportation easily.