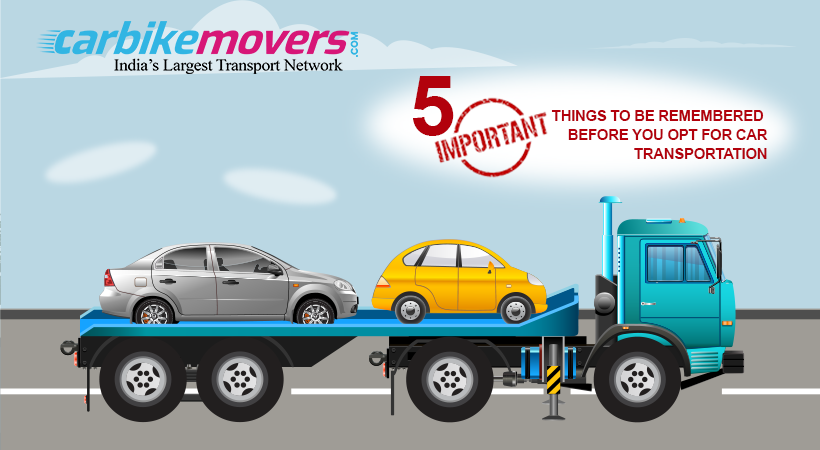 Urghhh!!! Car shifting is one of the most tedious tasks one can think of. It is a bit panicky both financially and mentally. There are jitters of fear going through my spine whenever I think of shifting it from one place to another. But there is no other option left for us other than opting for car transport in Hyderabad to move my car from one place to another. The last time when I hire carbikemovers.com for the shifting of my vehicle, they had given me lists of things that I needed to take care of while I opt for the car relocation in Hyderabad.
Now, guys, I will be sharing all those tips with you so that your car shifting process can be easier.
Tips for car shifting process
Whenever you plan to shift your car from one place to another, always make sure to clean it first. If you are thinking of avoiding it, then I must tell you that there is no use of it. The dust on the car makes it look very shabby which will hide the external body of the car. It is very important to keep your car clean so that you can take pictures of the car so as to verify it when it gets delivered at the delivery location. This is one of the most important steps to be followed while you choose the car shifting in Hyderabad.
If you have an alarm in your car, then make sure that you disable it so as to avoid any sort of inconvenience to the staff.
Remove all the spillable liquids or sharp pointed things from your car, so as to avoid any damage to the interiors of the car. The charges of the damaged interiors have to be paid by you only since it is going to be because of your carelessness and not due to shifting car in Hyderabad.
After you clean your car, the next thing you need to look for is the leakages. So, always make sure that the exhaust pipe is not torn or damaged from any part. If your vehicle has even a tiny leak, then it will be rejected for the transport by the car carrier in Hyderabad. This can cause a serious problem while the shifting of the vehicle.
Check for the proper tyre inflation, since it can be very risky while you are on the go. Deflated tyres are a serious problem, as it can damage the tyre while loading and unloading.
Prevent the chance of having the car destroyed by removing the unique attachments. Because of their odd shape, these attachments can break during transport. Before the vehicle is loaded onto the trailer, always ensure that unique parts or accessories are removed.
While you choose the car transport in your vicinity always make sure to get the verified car transportation company like carbikemovers. It is important to get the verified service providers since we cannot keep our valuables at risk by opting for unverified companies.
Lastly, make sure you ask for the transportation quotes which contain the car carrier price, so as to get an idea of how much does it takes for the shifting of your vehicle.
So, these are some of the very important tips which you need to remember for proper and safe car transport from one place to another. Carbikemovers.com is here at your fingertips to provide you with the best services.