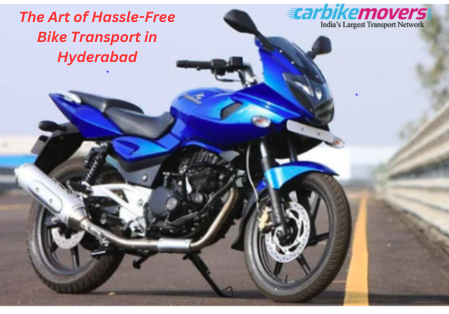 If you want a reliable and efficient bike transport in Hyderabad then carbikemovers is an ideal choice. They offer a bike parcel service which is affordable and the delivery is on time. They understand how important your bike is for you and they take extra care and precaution to ensure safe onset to your new location.
Bike shifting from one destination to another is an invigorating endeavour, but it is quite stressful at the same time as lot of things have to be kept in time. For this hiring a renowned bike shifting company not only saves your precious time but also keeps you hassle-free and relaxed as the entire process is executed by the professional team. Bike transport from Hyderabad to Bangalore by train cost is very reasonable and fast becoming very popular these days particularly in the metro cities where multi-national organizations are looking for speedy and resourceful courier system. If you opt for dependable bike shifting company they take full responsibility of preparing things to move.
Find below some of the top tips to organize your bike for transfer-
Plan ahead of time
It is important to plan ahead of time as far as relocation is concerned. If you plan beforehand, you can pick up the ideal dates, the right movers and schedule your important tasks and other obligations around it. This will assist you in charting out and fix up any loose ends, which will occur at the time of relocation.
All the regulatory requests and documents should be ready
When you are planning your bike transport in Hyderabad, you need to be careful with the regulatory needs and check all the necessary documents. Else you will land up paying heavy fines to the traffic police. You require few of the documents while you relocate your bike to another town, especially to another state from yours. Some of the clearance certificates, which you require are RTO's no objection certificates, RTO form number 27-28, registration certificate of the bike, updated insurance policy papers and valid pollution check of the bike. Make sure that all the papers are ready before you move from your destination.
Remove all the spare parts that are loose
It is important to check all the broken spares or any loose parts before you plan to relocate. Loose parts can create havoc during the transportation so before shipping your bike to its new destination, examine it thoroughly. Removing the mirrors of your bike and any fitted external carrier is vital to avoid any damage to them during transit.
The condition of the bike should be good during transfer
Ensure that your vehicle is in a good condition and mechanically fit before you begin your relocation. Send your bike to the workshop and get it serviced and examined to avoid any mechanical errors or complaints that may subsist. This will make sure that no additional damage crops up during bike shifting. You must hand over the bike spotless before shipping it, though it is optional but it is suggested.
Instruct packers and movers clearly
Give all the specific instructions to the movers and packers regarding your bike. You know your vehicle well and sharing the related information will of great help at the time of relocation. By doing this you can avoid all the unexpected disasters and lend a hand in ensuring that no damage is done to your two wheeler at the time of relocation.
For instance if the stand in the centre is wobbly or if the side mirrors require special care or any other issue regarding the bike should be noted and the slip handed over to them. Giving all these specific details will be of great help in bike transport service in Hyderabad.
A thorough inspection of the bike is important
The bike should be ready for relocation after a thorough inspection before it goes to its new location. Make a proper note of the dents, scratches if any and take photos of the bike before it sets off to its journey. Crosscheck all the dents when the vehicle reaches its destination.
Fuel and tyre pressure needs to be checked
It is a common question, which is asked quite frequently as to what should be the pressure in the tyres. What amount of fuel should be left in the vehicle? The prompt answer to this would be to have standard pressures in the tyres and fuel tank should be below half in the bike. If the pressure or fuel is more than the bike will be heavier, which will make it difficult for the packers and movers company to handle the bike. If it is lesser than the normal it will be difficult in an emergency situation, when the need arises to start the bike.
To sum it up we can say that when we hire an efficient and trustworthy moving partner, it not only cuts down your work and de-stress significantly, but also processes a smooth relocation of the bike to its new destination. Just bear the above mentioned points in mind and cover all the corners that need to be worked upon. All the above tips should be strictly followed to ensure seamless relocation. It is compulsory and of supreme importance, if you are keen to have safe and smooth bike transport. Depend on the unswerving and dependable company like carbikemovers for all the flawless operations.