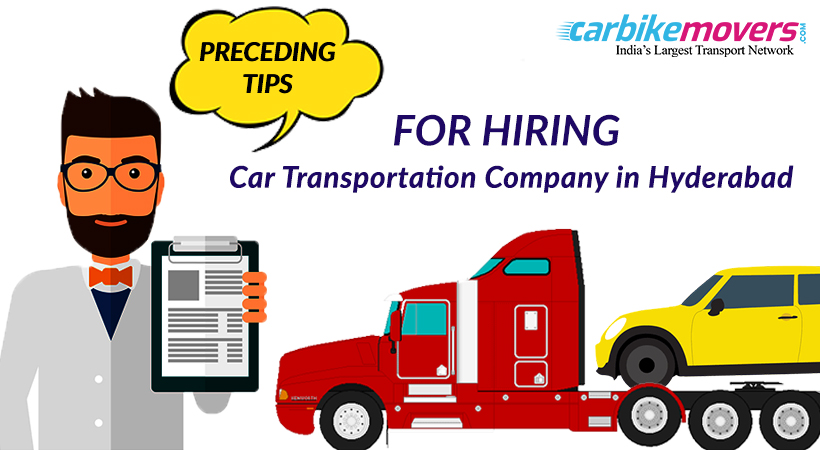 Car shifting is a very cumbersome process and needs a lot of time and energy to plan and execute. To make the task easier many seek the help of car shifting carriers for car relocation but even then there is a lot to be done at your end. And if you are looking for car packers movers in Hyderabad then the task is all the more difficult for you. Hyderabad being the busy city that it is can pose a lot of problems while going to vehicle shifting. So how does one plan a secure car shifting in hyderabad ? We have mentioned the hassle free step by step guide for secure and safe car shifting in Hyderabad below to make this task simpler for you -
1. Choosing an IBA Approved Car Packers Movers in Hyderabad - The first and foremost task before vehicle shifting is choosing the best car movers in Hyderabad. A simple tip for choosing a car shifting carrier is to look for a company which is IBA Approved. Indian banking association gives out certification to all transporters who meet certain set guidelines. Thus choosing an IBA approved car packer mover in Hyderabad almost ensures that your car will be shipped safely.

2. Selection of carrier type - Another very important step in ensuring the safety of your vehicle during transportation in Hyderabad is choosing a good carrier type. You can choose from open trailers, enclosed carriers or trucks. All of these offer varying types of safety to the relocated vehicle and are also priced differently. Thus choose the safest mode of enclosed carriers if you wish for a secure car shifting process in Hyderebad. But if looking for bike relocation in Hyderebad then you will have to be careful about what mode of transport the company provides you.

3. Insurance - When choosing a car movers in hyderabad, it is always recommended to choose the best insurance cover. Your precious car can get damaged in transit and when you choose insurance cover, it is like a guarantee against any monetary loss. Thus always choose a car mover in Hyderabad which gives you good insurance cover.

4. Packing for bike relocation in Hyderabad - The parts of a bike like mirror, handles are protruding outside and thus might need packing. Before you send it for bike relocation in Hyderabad, ask the company to secure all loose or breakable parts with good quality packing material. Preparing the vehicle is just as important as the actual moving process.
When you have to go for car transportation services hyderabad, then it involves a lot of things. A professional auto shifting company solves some part of your problems. But meticulous planning is also essential at your end to ensure hassle free vehicle relocation in Hyderabad.