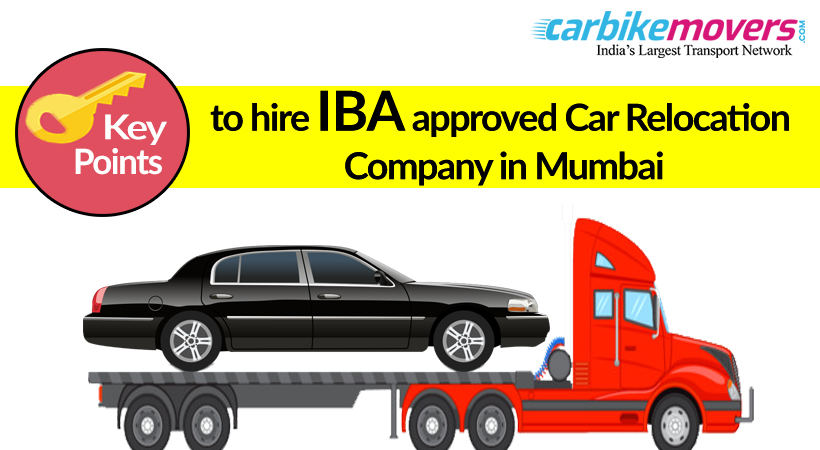 When one is looking to relocate their car from one place to another then they are faced with any questions. How to relocate? Whether to go for professional car shifting or no? when to move your car? Which mode of transport to use? And if the relocation involves a big city like Mumbai, then the task is further cumbersome. One of the safest decisions to make for car transport in Mumbai is to hire car packers and movers for the task. They handle things professionally and make the process stress free for you.
But is there a scope of an error on the car shifting company's part? What will happen if your car gets damaged during the relocation in Mumbai? As a car owner, you have to take all measures to ensure a damage-free auto transportation process. One of the simplest steps to ascertain that is to hire an IBA approved car relocation company in Mumbai. Indian Banking Association gives certification to some transporters across the country which meet their guidelines. IBA recommends their employees and staff to use the services of IBA approved packers and movers to ensure a smooth relocation. Thus these IBA approved vehicle movers are preferred in comparison to the others. Still not convinced? We list out the top key advantages of hiring IBA approved car relocation in Mumbai-
1. Positive Feedback- All IBA approved car relocation companies in Mumbai can be verified with bank employees who might have used them. You can use the bank to provide feedback about them which can give you good information on why to use them.
2. Meet guidelines- Since IBA approved car moving companies meet certain guidelines set by IBA, they are certified. They are better than the others in providing a benchmark of services and being cost-effective. Thus when you choose these approved car shifting companies, you can be sure that their services are better than unverified transporters.
3. Cost-effective- All IBA approved packers and movers will be better priced as compared to other regular vehicle shifting companies. Since they have a pan India presence thus their pricing will be better. These car shifting companies will be able to provide better relocation quotes.
4. Large Network-The verified car shifting in Mumbai will be companies with all over India presence. They will have a large network of trucks and professionals all across the country. Thus when moving from Mumbai to any part of the country, you won't find any hassles since this IBA approved company will have a network to take care of your transportation.