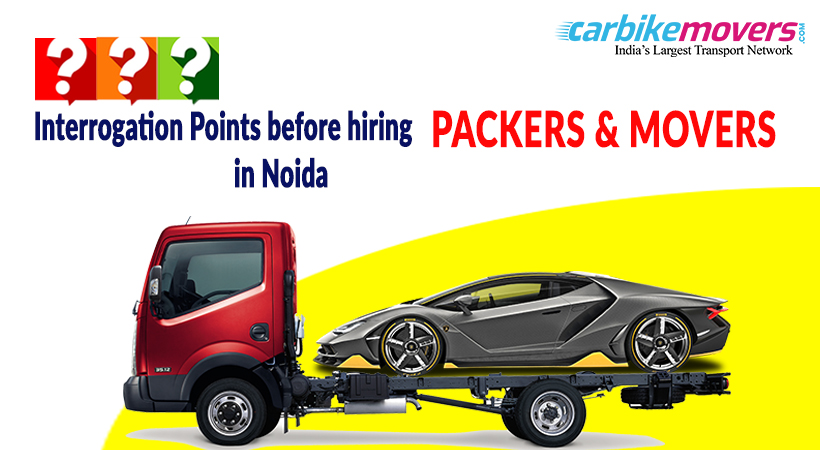 Before you finalize a vehicle transportation service in Noida, it is important to be sure of the services of the company. You need to be sure that the auto relocation company hired is efficient and professional enough to relocate your vehicle damage-free. You also need to be sure that they are trustworthy and guarantee no theft to any car parts. They should also be a genuine packer and mover and be cost-effective. They also need to be old in the business to know the various parts of the city well.
So how do you ask the right questions before finalizing a car packer mover in Noida ?
If you don't know what to quiz your auto car or bike relocation company about, then we have some answers :-
1. What all services be offered to be during car relocation from Noida ? - The first thing to ask the vehicle transportation company is the scope of services they will render. Ask them if they only help with moving the car or also help in packing, loading, unloading. Do also consult with them about door to door service. Also, check if your vehicle shifting will include GPS tracking service ? These are some simpe service related questions to be asked.
2. What all is covered in the cost ? It is always advisable to ask for a break up of the cost/quote. Once you receive the final price from the auto relocation company in Noida, it is best to ask them to give the complete break up in writing. This way you will be sure that everything is documented and they cannot change anything. Also, ask them what all is included in the cost they mention.
3. What is the guarantee of safety of your car ? One of the primary thing that irks any car owner during vehicle shifting in noida is whether the car mover will take care of the vehicle. So you need to ask the packers and movers if they will give any guarantee of no loss/damage during relocation.
4. Do they offer insurance ? Since your car insurance doesn't cover relocation thus always ask the car movers in Noida if they have that service. Insurance is like protection that you get against any uncontrolled damage due to external factors that your car can suffer during relocation. Thus choose a company that is professional and has insurance services available.
5. Do they have enclosed carriers ? For SUV and luxury car relocation, enclosed carriers are the safest option. Thus ask your packers and movers in Noida if they have enclosed carrier service. If they don't then your car is susceptible to external conditions and can get damaged.
It is better to be informed about the various things before car relocation. The above-mentioned questions are some of the simple things that you can ask your car transport in noida And only after getting satisfactory answers should you be booking them.