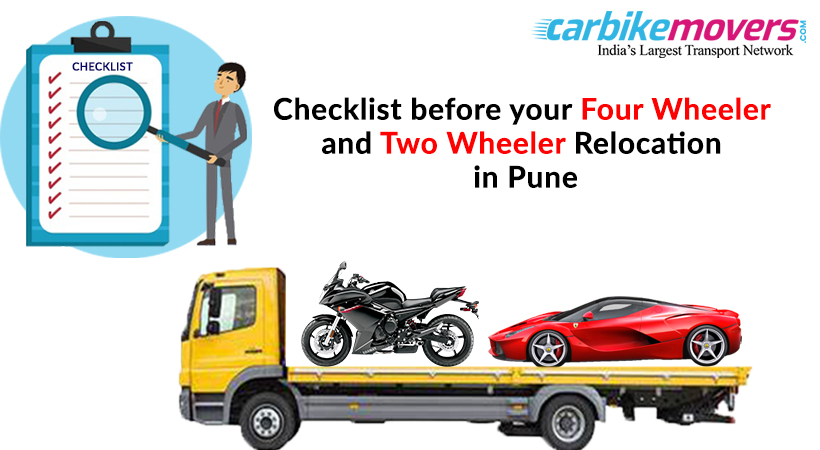 Vehicle Shifting in India has become a lot easier than before. With a large number of people shifting to different cities for work or education, the demand for vehicle transporters or packers and movers is on a constant rise. One of the cities in the country where we see a lot of people moving in and out every year is Pune. If you are shifting in to the city from outside or vice versa, or are simply moving from one apartment to the other in Pune, then you are lucky that there are so many car transport in pune to choose from, who make the shifting process a lot more convenient for you.
However, when you are booking these services with any company for car bike shifting in Pune, there are some things you should be careful about. Here is your handy checklist:
1.Find a Reliable Company – Always choose a company that is reliable and trustworthy and has a proven record of delivering good services. One good way to do this is to take advice from friends or colleagues and use the service company that they frequently use and are happy with. The other way is to check general customer reviews and feedback online to see the kind of reputation a company has.
2.Stress On Paperwork – Regardless of how good the company claims to be, always stress on getting the paperwork done properly beforehand. This is a simple way to ensure that there are no legal problems that can arise later. And this kind of paperwork is even more important when you are doing shifts between cities, so that no authorities can find any flaws or errors with your shifting papers and allow it to happen smoothly.
3.Rate Check – With so many car transport services in Pune, there's definitely some competition between the providers. This means that their rates should more or less be similar, in order to get as many customers as possible. As a service seeker, you must always check the prices beforehand and go for the one that provides the best deal. Note, that the best deal does not necessarily mean the best price; it means what all features or facilities you are getting in their quoted price. Weigh the pros and cons carefully before choosing a company.
Many people preferred IBA approved packers and movers for their vehicle shifting company pune. If you too are keen on finding one like that, then you must gather a list of the ones that are genuinely IBA authorized or approved and then go ahead with one of them.